We here at egs are still enjoying the last bit of our student life but in a couple of months it will be bye bye to lectures and hello to meetings. Another thing we will be saying bye to: casual and fun clothes. No longer do we get to wear breezy floral dresses or jeggings on a day to day basis but rather we have to get used to wearing drab office wear. But then again who says office wear needs to be boring right?
To be honest I don't have the slightest clue what is work appropriate and what is not. That's why i guess for me i'll rather just be on the safe side and wear "safe" items like pants and buttoned shirts. But who wants to wear the same thing everyday?? So i did some googling and managed to find some guidelines on dos and don'ts of office work wear.
The general guideline for ladies is that we should not dress too provocatively. We need to give the image of a professional working woman and not some trashy whore or something along that line. So the basic rules:


1. Skirts should be knee-length or longer

2. Our midriff should be covered
4. Avoid ill fitting clothes. Your clothes should fit you perfectly, not too tight (especially at the chest area. you don't want your button to pull!) and also not too loose as you risk looking sloppy.
Let me just share the image of one of our lecturers. She is the classic don't. I really wish i secretly took a photo and it would be the perfect example of workwear don't (but of course i would never in a million years have the bravado to snap the photo as my grades are in her hands). But here's a description of what she wears on a day to day basis: a shirt so tight and short that her tummy is exposed when she lectures (violation of number 2) and the worst part is her skirt. she wears a miniskirt so tight and short that it probably only reaches mid thigh (violation of number 1 and 4). Her skirt is the type of skirt that is buttoned all the way in front. And as you know for buttoned clothing if it's too tight, it will pull and there will be a gap (see picture in number 4). So her skirt is so tight that the gaping hole is huge! you can literally see her panties!! And to top of the perfect image she wears flip flops to class.

So go to work looking like this:

and never ever ever go to work looking like this! Unless of course your line of work calls for something like that in which case i have nothing to say.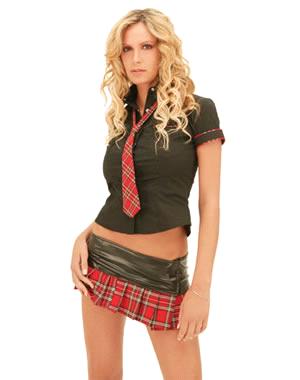 And the general rule of thumb is of course to emulate your bosses. If your boss dresses casually then go ahead, you can dress more casually as well but if your boss dresses very smartly then it will be the smart thing for you to mimic that as well!
Here are some of the websites i took advise from (luckily this is not a uni assignment so no chicago referencing needed. yay)
Forbes: What not to wear to work
The dos and don'ts of women's work wear
Fashion Dos and Don'ts - At the Office
I realized that this post is already quite long so i'll stop here but i'll be back with Part II: Work wear on a budget.